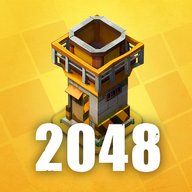 Dead 2048
Beschreibung
Dead 2048 Android Game
Fend off zombies by building towers in this 2048 puzzle
★ 'Dead 2048' Is a Clever Spin on the 'Threes!' and '2048' Formula - Touch Arcade
★ Awarded Top 3 at The Big Indie Pitch by Pocket Gamer(GSTAR NOV. 2017)
★ Awarded Top 5 at Global Indie Game Development Contest(DEC. 2017)
★ Busan Indie Connect Casual Game Finalist(OCT. 2018)
★ TAIPEI GAME SHOW - BIC Booth (FEB. 2019)
★ BitSummit 7 Spirits 2019 - BIC Booth(MAY. 2019)
[Tip] How to build 4096 tower in DEAD 2048
( www.facebook.com/dead2048/videos/209902716224920/)
Tip 1: Choose one corner to build highest tower
Tip 2: Choose a wall along the highest tower and gradually build up
Tip 3: Use Hammer wisely!
Tip 4: 4096 Tower built!
Welcome to the World's 1st-ever 2048 Tower Defense Game.
It's Dangerously Fun! It's Free! Icecream, Anyone?
DEAD 2048 | CONCEPT & STORY:
The year is 2048. The world has been taken over by Zombies and its upto the player to survive the invasion of Zombie Waves. It's an innovative & addictive combination of 2048 puzzle fun factor and Tower Defense mechanics. Build Towers to defend, ultimately build-up a Biology Laboratory to save the world. Survival is all it matters.
HOW TO PLAY:
1) Swipe (Diagonally Up, Down, Left, Right) to move the defense towers. When two towers with the same number touch, they merge into one.
2) Build Higher Towers to defend against Zombie Waves along the fence road.
3) Wisely use upgrades and items to help you during challenging moments.
4) When 131072 Defense Tower(Biology Laboratory) is created, the player wins!
FOR PLAYERS WHO:
1) Are big fans of the 2048 Free Games
2) Are big fans of the Tower Defense Games
3) Are big fans of Zombies
4) Are tired of the same free games
5) Are looking for a new experience
6) Love playing the game to see the ending( Finale )
7) Only keep games worth playing
8) Love uploading their plays on Youtube
★ It's what they say in the south. A Man's gotta do, what a Man's gotta do.
This game is not Ads Free. It also contains reward Ads that help you along the way.
GAME FEATURES
No it's no ordinary 2048 puzzle free game
No it's no ordinary Zombie game
No it's no ordinary Tower Defense game (Road to Survival)
Easy and fun to play - (but hard to master)
Extremely Addictive and a great time killer for free
Upgrades and Boosters to help during challenging moments
Can be played without internet connection
Game client available in 11 Languages (English, Spanish, German, French, Korean, Japanese, Simplified Chinese, Italian, Indonesian, Thai and Vietnamese)
Survival Road, Survival Road, Survival Road…That's all it matters
★ It's what they say in the south. A Man's gotta do, what a Man's gotta do.
Notice:
- DEAD 2048 is not Ads Free. It also contains reward Ads that help you along the way.
- Buying Ads free removal package will get rid of intrusive ads that do not include the HD Reward Video Ads.
- Dead 2048 is different from any 2048 games out there, including fibonacci , blocks , 6X6 , 5X5 , Cupcake , Doge , bricks , + plus , inverse , journey of life , jelly , knights , luxury , merged , mania , backwards , flappy , hexagon , tycoon,sudoku, city, age, History, evolution, extended versions and editions.
- Dead 2048 gives out free IAP items such as undo cleaner
- Inspired by Gabriele Cirulli game available on the web: gabrielecirulli.github.io/2048
Info
Info
Bewertungen &

Bewertungen

(0)
Zusammenfassung
Es liegen noch keine Bewertungen für dieses Spiel vor
Geben Sie Ihre Bewertung
Registrieren Registrieren Sie einen PHONEKY-Account, um Bewertungen mit Ihrem Namen zu veröffentlichen, laden und speichern Sie Ihre bevorzugten mobilen Apps, Spiele, Klingeltöne & Hintergrundbilder.
Registrieren oder Melden Sie sich bei PHONEKY an


Das könnte dir auch gefallen:
Android-Spiele-Service wird von PHONEKY zur Verfügung gestellt und es ist 100% kostenlos!
Spiele können von Samsung, Huawei, Oppo, Vivo, LG, Xiaomi, Lenovo, ZTE und anderen Android OS-Handys heruntergeladen werden.
Seiteninformation:
Herunterladen Dead 2048 Spiel für Android-Handys - eines der besten Android Spiele kostenlos!  Bei PHONEKY Android Games Market können Sie Spiele für jedes Handy oder Tablet kostenlos herunterladen.  Schöne Grafiken und süchtig machendes Gameplay werden dich für eine lange Zeit unterhalten.  Bei PHONEKY finden Sie viele andere Spiele und Apps verschiedener Genres, von Adventure und Action bis hin zu den Logik- und Renn-Android-APK-Spielen. Laden Sie kostenlose Android-Spiele und -Apps auf Ihr Mobiltelefon, Tablet oder Computer herunter.  Um die Top 10 der besten Spiele für Android anzuzeigen, sortieren Sie die Spiele nach Beliebtheit.
Ok